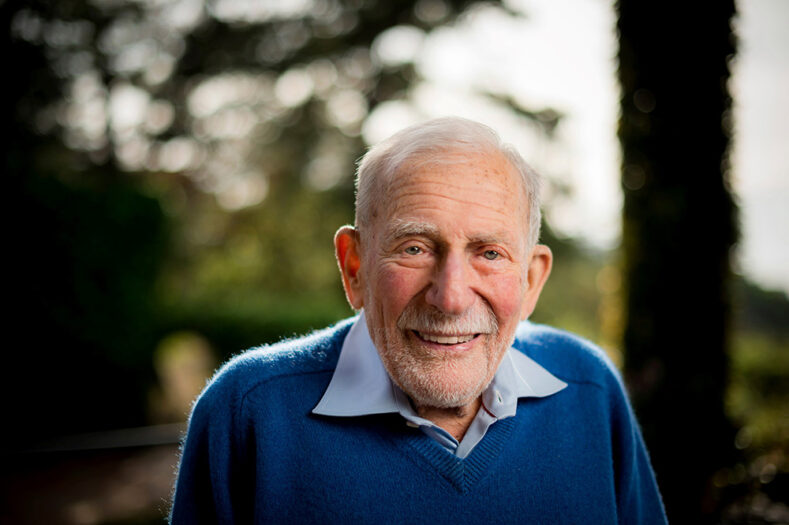 Photo: Erik Jepsen/UC San Diego.
A great oceanographer, Dr. Walter H. Munk completed a long journey of his life on February 8, 2019. He was 101.
Dr. Munk has defied conventional wisdom and proved several theories by global-scale experiment with an outstanding idea. For example, an experiment over tides observed then as a common knowledge. He discovered the way to measure open sea tides with pressure recorders freely dropped to the deep-sea bottom, and suggested that lunar tidal dissipation provides power for mixing the abyssal ocean. The proposal was first considered as lunatic, but a year later it is considered as obvious in the academic world.
While disproving the conventional conceptions, he turned to be called "Einstein of the Ocean." The city of San Diego praised his achievement and named a road of the beach at La Jolla near the Scripps Institution of Oceanography as "Walter Munk Way."
Dr. Munk has cordially welcomed the Kyoto Prize laureates and guests during the annual Kyoto Prize Symposium at San Diego.
He was a great character whom myriad people loved all the time.
Defying the common knowledge, he continued the experiments under his strong will and dedicated himself as a researcher for his whole life. His relentless challenge has given an inspiration to many young researchers. We reckon his spirit will be respected and followed by his juniors for the future courses.