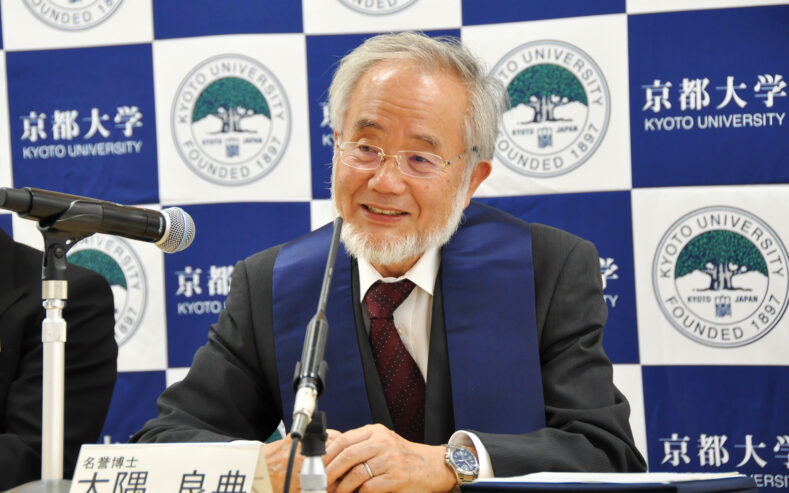 The presentation ceremony was held at Kyoto University on July 13, 2017 to present the Honorary Degree of Doctor to Dr. Ohsumi. He is the 15th recipient of the Honorary Doctorate from Kyoto Univ. (the 3rd Japanese recipient) He was studying at Kyoto Univ. during 1970-71, while he belonged to the graduate school of Science at University of Tokyo. In JAL in-flight magazine "SKYWARD," he introduced Manshu-in Temple Monzeki where he often walked along with his wife who he married at Kyoto Univ. researcher era.
Kyoto Univ.'s honorary doctorate covers 6 Kyoto Prize laureates such as 1st recipient Dr. Izrail Moiseevich Gelfand, Dr. Jane Goodall, Dr. Isamu Akasaki, et al. Dr. Ohsumi lectured at the Clock Tower Centennial Hall, after the presentation ceremony, he advised to the young students and researchers "Take a great deal of what you would like to do and resolve the pure questions you raised one by one," looking back to his own researcher life.
We extend our heartfelt congratulations to his great honor this time.